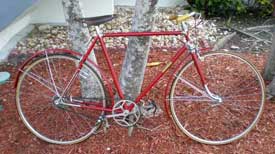 ---
Champaign County Bicycling Basics
---
Cycling is fun!
Here area few things you should do immediately:
1) Join the Prairie Cycle Club (www.prairiecycleclub.org) -- The PCC is the local bike club. They have regular rides of various lengths for riders of all skill levels.
2) Join ChampaignCountyBikes.org --

a group of citizens working together to make Champaign County, Illinois the most bicyclist friendly county in the Midwest.


3) Sign up for Road Bike Rider's free e-mail newsletter (www.roadbikerider.com) -- lots of riding tips and interesting articles. This is a great resource. Join the premium club for access to the archives (it's cheap for what you get).
4) Familiarize your self with a local bike shop. I recommend Champaign Cycle Co -- they are friendly and very knowledgeable about all thing bike.
5) Sign up for the UC Bike Ride (www.ucbikeride.com) mailing list. This was set up to facilitate spontaneous bike rides in the area.
6) Join the Bike Project (www.thebikeproject.org) and learn at least the basics of bike repair. It will come in handy while riding cross country.
7) Buy a helmet -- some folks will tell you that they are not needed. Others would tell you how important they are if they could. I say, "Better safe, than sorry."
---
Bike Selection


There are a million different kinds of bikes out there in a variety of styles, a wide range of prices, and with different functionality. Be sure to pick a bike that will work for you, your budget, and this ride. (link)
Bike Fit 101
Possibly the most important thing you do -- even more so than training -- is to get your bike set up correctly for the ride. Follow these guidelines to get you started. (link)
---
Champaign Cycle's "Champaign County Escape Map"


Recommended rides and routes

(of various lengths)

from Urbana-Champaign out into the county

(print it out onto a legal size sheet of paper)


High-res .pdf (6.5mb)
Lower-res .pdf (2.5mb)
---
Lots of local and non-local bicycling related links here.
Lots of cycling related movies here

(for those rainy days when you just can't drag yourself out)
---